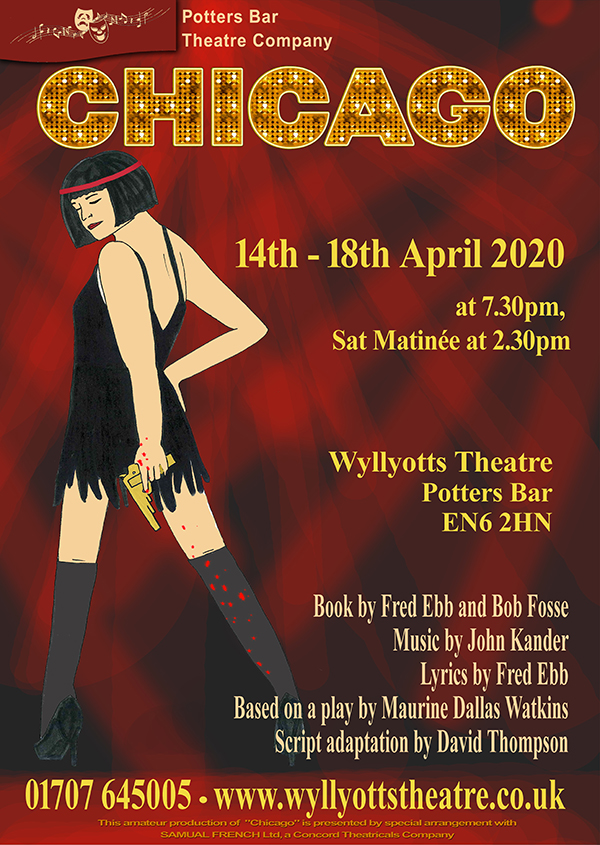 A story of murder, greed, corruption, violence, exploitation, adultery and treachery… all those things we hold near and dear to our hearts!
PBTC brings Kander & Ebb's wonderful score to life, including 'All that Jazz', 'Razzle Dazzle' and 'Roxie'. With comedy, heartache, an array of colourful costumes and killer dance routines, join us back in the sassy Speakeasy's of 1920s Chicago.
Director – Lorraine Bottomley
Musical Director – Keith Willis
Choreographer – David Adams
Now the auditions have taken place and we are pleased to say there was a huge pool of talent looking for a number of parts. the full cast list will be posted on here from 10th December once we know everyone has had their individual emails to notify them.
Now the hard work begins……
Oh if you are stuck thinking about what Xmas present to buy yourself, friends or family… Then why not go grab some tickets now.
They are on sale early just for those present seekers… HERE is the link for ease…
IMPORTANT ANNOUNCEMENT
Following the Society of London Theatre's decision to close all major theatres and other local theatre's following suit, Wyllyotts Theatre have announced the expected news that our April booking for Chicago is cancelled.  We apologise for the inconvenience to those that have already purchased tickets for the show.
The production team and all those required to support the production are currently in discussions to see whether we can build a framework to deliver the show to stage in our autumn Wyllyotts slot (15th – 19th September).  Wyllyotts now run our box-office and so are in receipt of any payments for currently purchased tickets. When planning is finalised, transfers or refunds for those tickets already purchased would be discussed with Wyllyotts.  We do hope that you can bear with us in these difficult times and if possible delay contacting the Wyllyotts box-office until we have further news.
As the health and well-being of our members, patrons, their families and our audiences is paramount, whatever plans are developed will need frequent review as the pandemic evolves and perhaps further revision. We hope that you will understand.
Thank you for your continued support
ROXIE HART – Caroline Fitch
VELMA KELLY – Jemma Puri
BILLY FLYNN – Stewart Jordan
MAMMA MORTON – Sarah Brealey
AMOS HART – Daniel Goode
MARY SUNSHINE – Stuart Piddington-Wall
GO-TO-KITTY – Freddy Cousin-Brown
M.C. – Michelle Williams
The Cell-Block Tango Girls/Dancers
JUNE – Paula Appaih
ANNIE – Hayley Payne
LIZ – Jess Robinson
MONA – Josy Cousin
HUNYAK – Sarah Budd
Cell-Block Dancers
DREAM VELMA – Lauryn Fasakin
DREAM VERONICA – Beckie Rowley
Jemma Hickmen
Lilli Nash
Maria Kleanthouos
Male Dancers
FRED CASELY – Matthew Greenbank
HARRY – Haydn Boxall
Danny Diss
Michael Lacey
CHARLESTON GIRL – Dorothy Hodd-White (will also be dancer in some numbers)
FOGARTY – Paul Large
JUDGE – Saad Rahim
HARRISON – George Bannister
AARON – Michael Champness-D'Abreu (will also dance)
COURT CLERK – Becky Panther
VAUDEVILLE ACTS (also in the Company)
Solo – Michelle Williams
20s Trio – Julie Markey/Lisa Large/Jenny Colledge
Solo – Mar Coupes-Out
The Company
Anna Palmer 
Becky Panther (and hoop)
Caroline Duker
Emily Fisher
Jo Simmonett
Judy Prior
Linda Beadle 
Linda Crook 
Mary Richardson
Sue Ridge
Tracy Carter