Members only reading of this play on Tuesday 26th May 2020 - 8.00pm
This weeks online play-reading will be "Neighbourhood Watch" – by Alan Ayckbourn. The reading will take place on Zoom on Tuesday 26th May, starting at 8pm. For more details, please contact Michelle Williams if you would like to attend. – You will need access to the password protected script download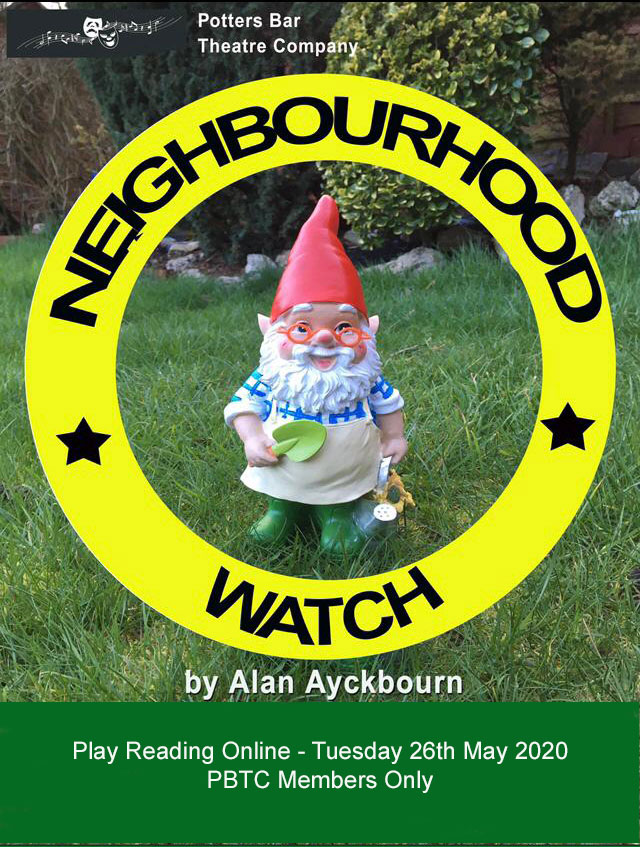 Brother and sister Hilda and Martin holding a house-warming for the residents of the Bluebell Hill Development. Martin unsuccessfully attempts to apprehend a trespassing youth. Rod advises Martin of the dangers of the nearby council estate and recommends he erect a fence, Martin forms a neighbourhood watch group but the first meeting is interrupted when, in retaliation, his gnome is thrown through the window. Martin and the committee declare war! Martin is intent on reclaiming the streets. The media is showing interest in Bluebell Hill, however, a plan to use one of the more volatile local families to control a troublemaker on the council estate goes wrong; the police arrest all but one family member who seeks retribution by setting the house next door to Martin's house alight. The arrival of the police has fatal consequences.
Characters
Martin Massie (40s /50s) wants to do the right thing
Hilda Massie (His sister, a little older) wants to protect her brother
Luther Bradley (30s) bully
Magda Bradley (His wife, 20ish) music teacher hiding a secret
Gareth Janner (50s)
Amy Janner (His wife, 30s/40s) who is having an affair with Ma Luther, and flirts with Martin.
Rod Trusser (60s)former security guard Ron
Dorothy Doggett (60s) the estate gossip
In order to take part in the play you will need to link in with Michelle Williams and also be in possession of the play script. The play script can be accessed by contacting Michelle using the form below.