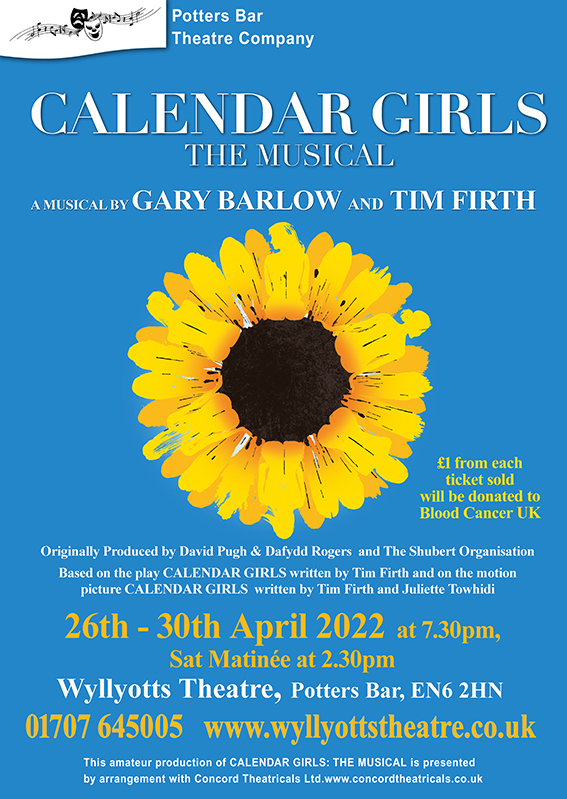 "Calendar Girls – The Musical " by Tim Firth and Gary Barlow
Based on the stage play by Tim Firth, with music by Gary Barlow, Calendar Girls is the touching story of the Yorkshire Women's Institute who launch an 'artistic' nude calendar to raise money for charity following the death of a much-loved husband.
Based on true events, this wonderful tale has been embraced by the world, produced as a hugely successful film starring Helen Mirren and Julie Walters, a stage play and a hit West End musical!
This heart-warming and hilarious story will make PBTC's return to the musical theatre one not to be missed.
The death of a much loved husband prompts a group of ordinary women in a small Yorkshire village Women's Institute to do an extraordinary thing. Instead of the normal Jam Making and raffles, they decide to create an artistic nude calendar to raise money for sofa at the hospital. But doing something different has emotional and personal ramifications for all of them.
The true story of the Calendar Girls launched a global phenomenon, a million copycat calendars, a record breaking movie, stage play and now this musical written by Tim Firth and Gary Barlow.
This fabulous and funny musical with unforgettable songs and powerful story will leave your heart soaring. Ok, so you may have tear or two, but you will have a bloody good laff..
Miss Wilson T
Miss Wilson C
Marie
Lady C
Brenda Hulse
Jessie
Celia
Cora
Ruth
Annie
Chris
John
Rod
Colin
Dennis
Lawrence
Danny
Jenny
Tomo
Lisa Large
Dorothy Hodd White
Sue Ridge
Anna Macer
Anna Acer
Debbie Kemp
Josy Cousin
Sharon Lottari
Julie Markey
Lorraine Bottomley
Sam Stringle
Mick Wilson
Jonathon Underwood
Jim Markey
Dereck Cross
Gary Colledge
Luke Ricketts
hannah Moriaty
Archie Beach