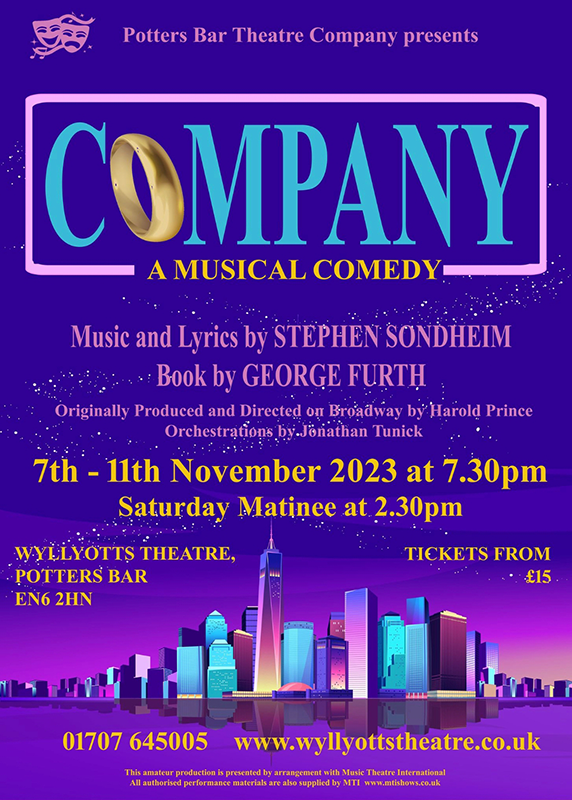 "Company" – A Comedy Musical by George  Furth
Opening on Broadway in 1970, Company with music and lyrics by the late Stephen Sondheim and a book by George Furth went on to receive 14 Tony Award nominations (a record at the time) and ended up winning six of them, including Best Musical.
Originally a series of individual scenes written by Furth, it wasn't until Sondheim showed them to his friend and collaborator Hal Prince that he said they would make a good musical. So, Sondheim got to work and tied them all together around a central character celebrating their 35th birthday and dealing with the challenges of modern life and the struggles of dating, marriage, and divorce. This central character shared the stage with 5 married couples and three love interests.
Show dates 7-11 November 2023
PBTC are delighted to bring Stephen Sondheim's Company to Wyllyotts Theatre this November.
Director – Lorraine Bottomley
Musical Director – Keith Willis
Choreographer – TBC
Production Manager – Laura Hill
Message from the Director
I am so thrilled to be bringing one of my all-time favourites shows, by my all-time favourite Composer, to Potters Bar.
I remember sitting in the Donmar Warehouse in 1996 watching Adrian Lester singing Being Alive at the matinee performance of Company, with tears steaming down my face having laughed and cried for the past two hours, and then grabbing the last ticket for the evening show that night!
Since then I have seen several productions, played Amy twice and read a number of books on the piece and love it just as much as I did nearly 30 years ago!
Company is a story about a man reflecting, or, as Sondheim puts it, "the story of what happens inside Robert."
Sondheim's sixth Broadway musical, Company was his breakthrough to serious credibility and received 14 Tony Award nominations, a record at the time.
It's a minimally plotted collection of songs and stories (more like a revue than a traditional musical) about a single man, his married friends, and several girlfriends. Robert wrestles with relationships and commitment.
The show's title has multiple facets, all important to appreciating its complexity. "Company" is the opposite of solitude and loneliness. It means being surrounded by friends and loved ones. It's also the tightly knit ensemble of actors performing a show.
The musical is 53 years old, so our challenge is to make it feel relevant to New York in 2023, which we will do through setting and characterisation.
I must admit to feeling a little nervous about tackling this one as I really want to do it justice, but I have a wonderful team including Keith Willis, as MD, and Simon Nicholas, who I know will bring my creative vision to life.
SHOW SYNOPSIS:
On the night of his 35th birthday, Robert struggles to think of a wish to make as he blows out his birthday candles. The lone bachelor, surrounded by "those good and crazy people" — his married friends — Robert is uncertain whether he should simply be happy with his lot or whether he should wish for his own romantic partner. Over a series of dinner parties, first dates, and thoughtful conversations, Robert attempts to understand the pros and cons of marriage from his diverse and frequently hilarious friends and begins to make sense of his own persistent bachelorhood.