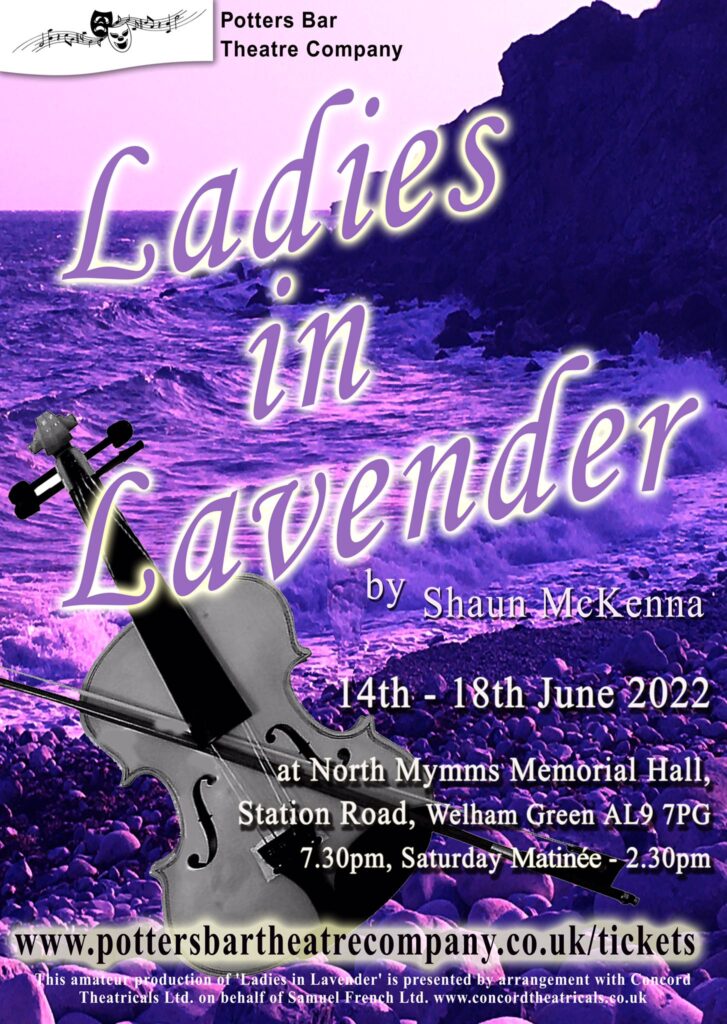 Ladies in Lavender
Performance Dates 14th – 18th June 2022
The year is 1937. Two elderly unmarried sisters, JANET and URSULA are living in quiet seclusion in a cottage on the coast of Cornwall. Janet had a fiancé who was killed in the first world war. Ursula has never had a boyfriend. They have a Housekeeper called DORCAS, who is very much a 'local' and down to earth, and are great friends with the local GP, DR MEAD, and attend his concerts. One morning a young Polish man ANDREA, is discovered washed up on the beach and the sisters take him in and nurse him back to health. Ursula in particular feels an unfamiliar spark of infatuation for the handsome young man, but propriety dictates that this attraction must remain unspoken. Gradually overcoming the language barrier, the sisters discover Andrea is an accomplished violinist and his dream is to earn his living playing in America. One day Dr Mead meets OLGA, who happens to be holidaying in Cornwall and is sketching on the beach. He finds her very attractive, but unfortunately for him, the attraction is not reciprocated. Olga happens to be the sister of a violin virtuoso, Boris Danilov. Olga hears Andrea play, and is struck by his obvious talent. The sisters become afraid that she will lure Andrea away from them; they have become extremely attached to their handsome young guest.
This is a poignant love story where the intertwining of emotions becomes complicated and the plot develops in all sorts of intriguing ways.
This will be performed at the North Mymms Memorial Hall, Station Road, Welham Green, AL9 7PG

Janet is the older of the two sisters and is more practical and level headed than her sister, but is not impervious to Andrea's charm.
Both she and Ursula have English middle class accents.
Ursula is more romantically inclined than Janet and has a wistful, vulnerable quality.
Dorcas is a local lady, with a strong Cornish accent, her interactions with the sisters provide most of the humour in the play.
Andrea has a strong Polish accent. He is young, handsome and charming. Ladies find him very attractive.
Dr Mead is a pleasant man, he plays the violin (not very well) and becomes smitten by Olga.
Olga is Russian and with a slight accent. She is the sister of Boris Danilov and recognises Andrea's obvious talent.