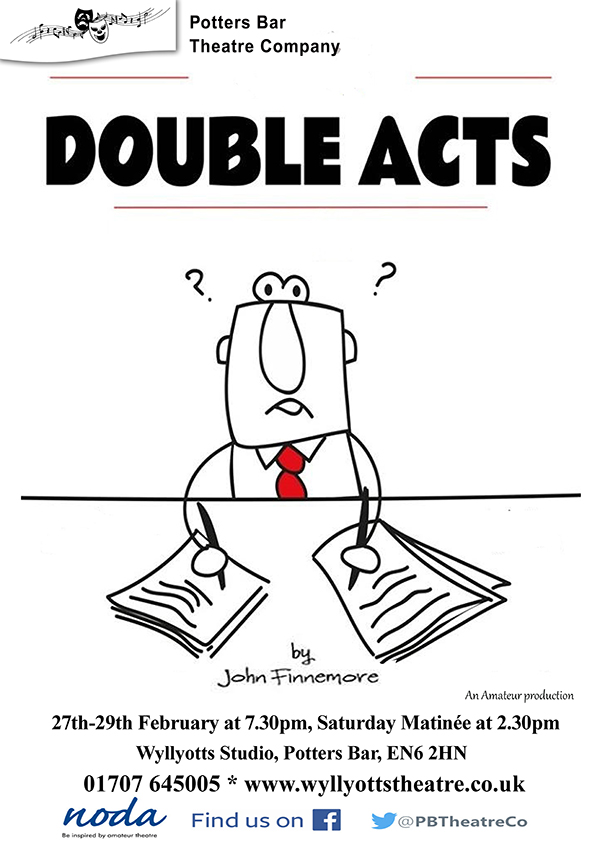 From John Finnemore, writer of Cabin Pressure, comes not one, not two, but three hilarious plays from his popular radio series Double Acts.
Director – Harry Harding
Lighting – Gary Colledge – Colin Ricardo – Paul Large
Sound – Poppy Humphries
Programme / Costumes – Jenny Colledge
Song Recordings – Rob Wallace
Vocals – Emily Rodell
Production Assistants & Set – Gary Colledge and Colin Ricardo
Front of House – Christine Gray & PBTC Members
The Cast
Adele – Catherine Little
Kerry – Kate Humbles
Joel – Frank Joshua
Henry – Ian Colpitts
Barnaby – Danny Hurley
Sarah – Victoria Polydorou
In Wysinnwyg, it's Kerry's first day in the Sales Support Department of Willard & Son Bath Suppliers – where she meets her horrific new boss Adele for the very first time.
Characters: Adele & Kerry
In Red Handed, Joel comes home unexpectedly early from work to find an unusual visitor in the shape of an older gentleman dressed in a suit. He is charming, suave, intelligent, well-spoken…and he just happens to be burgling Joel's house.
Characters: Henry & Joel
In Hot Desk, for a few minutes, twice a day, at precisely seven in the morning and seven in the evening, a receptionist and a security guard meet to swap ownership of a desk…awkward romance at its funniest!
Characters: Barnaby & Sarah
A Word from the Director - Harry Harding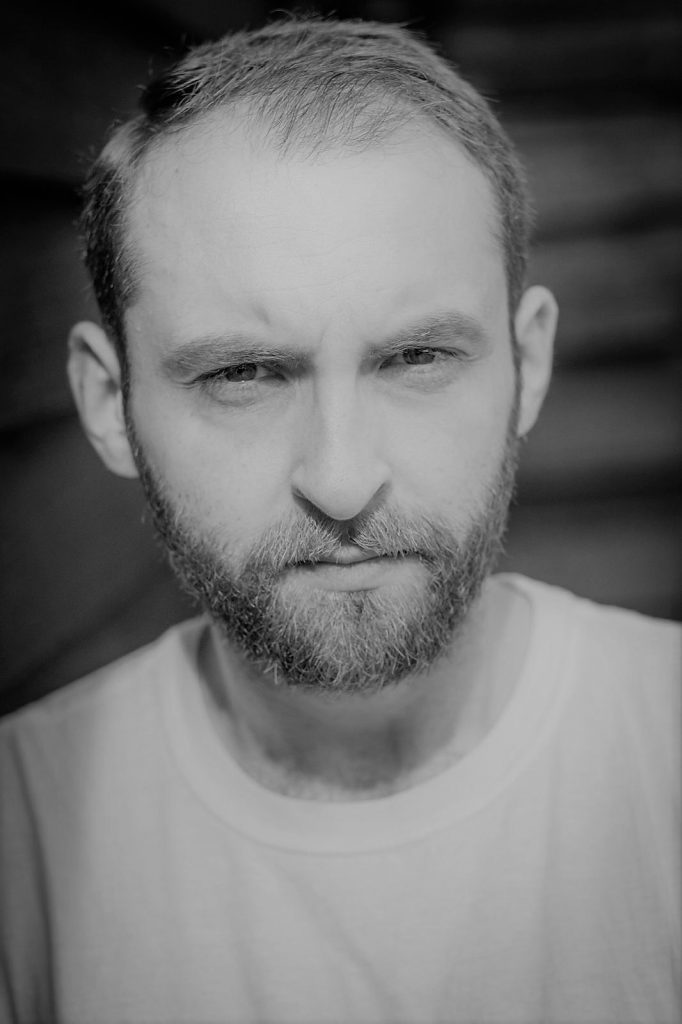 When I first listened to the original Radio versions of both Wysinnwyg and Hot Desk, I was immediately struck by how funny and charming they were in their own unique ways.
The brutally funny characters of Wysinnwyg, the adorably sweet relationship at the heart of Hot Desk  and I was delighted to discover all the subtle connections to my previous John Finnemore adaptation; the comedy delight Red Handed.
All three stories were set in the same Universe! Excited by this idea, I asked John Finnemore himself about it and he confirmed my theory, and told me about a few more of these lovely connections that I had missed. I proposed the idea of following up Red Handed with a double-feature production of both Wysinnwyg and Hot Desk. He gave his blessing, and Double Acts (based on the title of the original Radio programme) was born… The rest is history.
In this new production for 2020, I have brought all three of these charming little plays together for the first time. I knew this production would be special and so I set about assembling a crew that were equally special. A company of individuals whom I know personally and have had the pleasure to work with before. A capable, passionate and lovely team of people without which this production would not have been possible. I have a great amount of pride and love for you all.
What about my fantastic actors! –  Talk about an A-team cast. These hugely talented, creative, dedicated performers have been the greatest of pleasures to work with. Every single one of them has brought something unique and wonderful, not only to their individual characters, or their respective 'acts'…but to the entire overall play. They have been the ones inspiring me! Surely it should have been the other way round?
I would like to thank you for coming to see our little play(s) and I hope you enjoy the evening.
H Harding
Harry Harding, Director