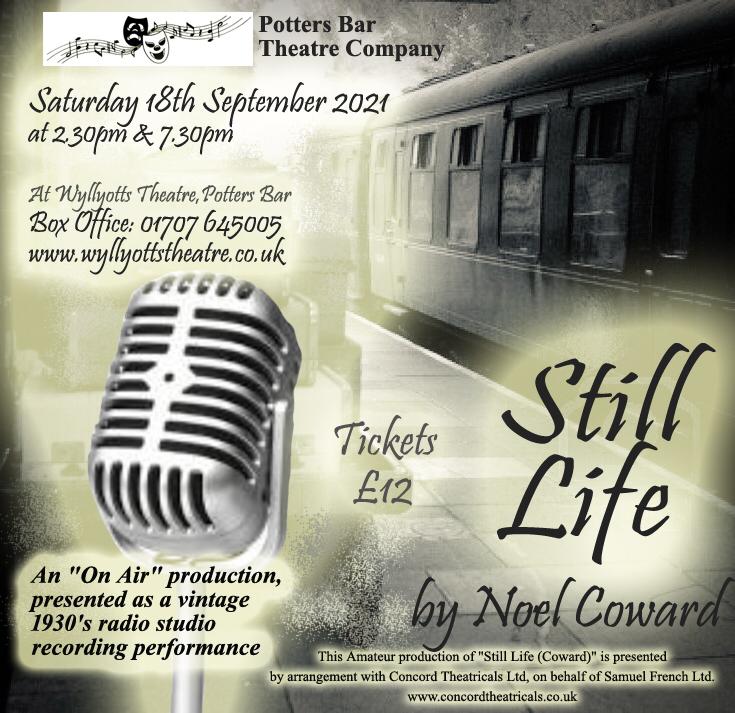 Potters Bar Theatre Company presents: an "On Air" production of "Still Life" by Noel Coward (by arrangement with Concord Theatricals).
Presented in the style of a 1930s radio production, do come and see our "On Air" production of Noel Coward's "Still Life" at the Wyllyotts Theatre, Potters Bar on Saturday 18th September 2021. There will be two performances: one at 2.30pm and then again at 7.30pm. Tickets for the production cost £12 and can be purchased from the theatre.
"Still Life" is a one-act play in five scenes, written by Noel Coward in 1936. A poignant and romantic tale of forbidden love, the play was the inspiration behind David Lean's classic film "Brief Encounter" and is surely one of the most haunting love stories ever told.
Famously set in a railway refreshment room, the play tells the story of the secret love affair between suburban housewife Laura Jesson and an idealistic doctor, Alec Harvey. While waiting on the station platform to return home after a shopping trip, Laura gets "a little piece of grit in my eye" and Alec comes to her rescue. Over the course of several weeks, this "brief encounter" develops into something more and, as they wrestle with the strength of their feelings, Alec and Laura are forced to make some heart-wrenching choices.
Of course, this being Noel Coward, the play also has some hilarious comic moments, especially for the station staff who work in the refreshment room. Their various comings and goings form the background to Alec and Laura's romance and together we hope that these ingredients will make for an thoroughly entertaining production.
About this performance ....
This was the Company's first time on stage after "lockdown" and the performance was presented as a vintage Radio Production, with actors reading from scripts and coming down to the front of the stage to deliver their lines, as if speaking into radio studion microphones. There will be sound effects to help the audience's imagination and Rachmaninov's Piano Concerto Number 2 will be used to add to the atmosphere of this classic romantic drama.
Thanks to everyone who came and supported this production

Laura Jesson

– Christine Le Couillard


Myrtle Bagot

– Robbie Crisp


Dolly Messiter and Mildred

– Andrea Pollington


Beryl Waters

– Helen Green


Stanley

– Luke Ricketts


Albert Godby

– Paul Large


Alec Harvey

– Nick Vause


Radio Announcer and Johnnie

– Michael Crisp


Sound Man and Bill

– John Bain
Director

– Nick Vause


Production Secretary

– Christine Le Couillard


Stage Manager

– Trevor Hodd